Shipping:
At check out you choose the method of shipping and insurance coverage if desired. The cost of shipping is determined by your choice. USPS mailing charges are calculated by the USPS server through our direct Internet connection to them.
Notice:
I comply with all international customs regulations. No exceptions. Please do not ask me to do otherwise.
Returns:
You may return any item in its original condition for a full and prompt refund, exchange or credit excluding shipping charges within 14 days of receipt. You do not need a reason to return something. A simple: "I want my money back." is sufficient.
Typical Stamp Order:
What does a typical stamp order look like? Please see the photo. Note that I ship your stamps on a stock card in the same order as they are printed on the invoice. If two stamps are of the same design a pencil notation is made on the stock card identifying each stamp by Scott Catalog number.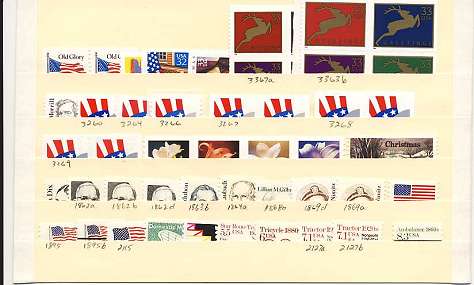 This is a photo of the protective cardboard envelopes that we use to mail all orders.